Албумите на 2018 през погледа на…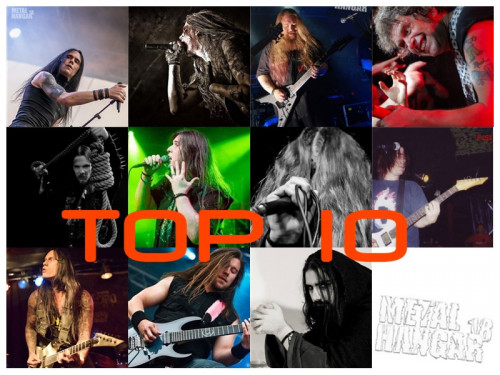 While we prepare the traditional annual charts of our team, we decided to ask for their opinion our friends and also big names on the extreme scene, members of worldwide well-known bands. You can adjust your preferences or just check out of curiosity what were theirs in 2018:
(the charts are presented to you without editorial interference, as they are provided to METAL HANGAR 18 staff)
Andreas Heljarmadr (DARK FUNERAL, GRÁ, CURSED 13…)
Heljarmadr is a name that everyone, whether listening to a black metal or not, is knows well. Few people manage to infuse life into something that by definition takes it, but this is one of them. Multi-instrumentalist, vocalist at DARK FUNERAL and GRÁ, Andreas Heljarmadr creates art and philosophy in his music. How could a black metal band surprise me? The only possible answer you can find out by yourself when you hear "Väsen," the 2018 album of GRÁ.
1. Judas Priest – Firepower
2. The Crown – Cobra Speed Venom
3. Craft – White Noise and Black Metal
4. Immortal – Northern Chaos Gods
5. VNV Nation – Noire
6. At The Gates – To Drink From The Night Itself
7. Willie Nelson – Last Man Standing
8. Dimmu Borgir – Eonian
9. Varathron – Patriarchs of Evil
10. Panphage – Jord
I honestly haven't spent much time on exploring new releases in 2018, I've been more into old heavy metal and rock lately. These albums are those I spontaneously know that I've been listening to continuously during the year and I warmly recommend them all. In no particular order.
Xenoyr (NE OBLIVISCARIS)
Xenoyr (or Xen) is a co-founder and extreme vocal for Australia's metal band, NE OBLIVISCARIS, based in Melbourne, Australia, where since 2003 they have created their original progressive death music with majestic orchestrations, complex and beautifully bound in a knot of technical death and symphonic elements; combined with two vocals in constant confrontation – Tim Charles's clean vocal and Xenoyr's diabolical, rather black metal, vocal.
Xenoyr is no less popular with his art as a digital artist and photographer, more information about his visual arts you find in his page.
01. Ihsahn – Ámr (Norway)
I'd actually decided this being my album of the year before touring with him – One of if not the strongest of Ihsahn's solo albums; it feels more adventurous and experimental, with a dark undercurrent driving it, yet has more of a personal sensibility which I think sold me on it.
02. Virgin Black – Pianissimo (Australia)
1st part of a doom trilogy; Pianissimo, Mezzo Forte, and Fortissimo. It's dramatic, heart-wrenching, and dark. Favourite band from my homeland.
03. Kreigsmachine – Apocalypticists (Poland)
Quality black metal with members from Mgła – definitely worth a listen just for the drumming.
04. Grå – Väsen (Sweden)
Black metal which keeps still keeps a 90's 2nd-wave black metal spirit, something which has disappeared with the more modern bands.
05. Antimatter – Black Market Enlightenment (United Kingdom)
Dark and doomish rock with amazing, heart-felt vocals.
06. Anaal Nathrakh – A New Kind of Horror (United Kingdom)
Brutal, abrasive and glorious. One word to really describe this band: freedom.
07. Sylvaine – Atoms Aligned, Coming Undone (Norway)
Beautiful and atmospheric, something all Alcest fans will love.
08. Gaerea – Unsettling Whispers (Portugal)
Tortured yet sombre melodic black metal that keeps the integrity from start to finish.
09. Zeal & Ardor – Stranger Fruit (Switzerland)
I've always liked this band, something so different from everything else out there… a mixture of extreme music, gospel, blues and soul.
10. Agathos – Nihil Est (Spain)
Spain's answer to Mgła.
Harald Oimoen (ex-D.R.I., ex-BLIND ILLUSION)
Here you can find 2018 selection of a legendary personality, we can hardly judge of his role on stage he is better known  – as a bassist of the cult D.R.I. or as a photographer and co-author of the only and one complete thrash scene encyclopedia in its first years, the early 1980s –Murder in the Front Row.
1. Ghost – Prequelle
2. Machine Head – Catharsis
3. Deep Purple – Infinite
4. Judas Priest – Firepower
5. Rush – Hemisperes (Reissue)
Michael "Micha" Hoffmann (ex-SODOM, ex-ASSASSIN)
Michael "Micha" Hoffmann, a former guitarist for the German thrash group ASSASSIN, probably known better as a successor of Frank Blackfire in SODOM, with whom they recorded "Better Off Dead" – 1990, added his suggestions for best metal albums of 2018.
1. Ministry – Amerikkkant
2. Hate Eternal – Upon Desolate Sands
3. Black Label Society – Grimmest Hits
4. Judas Priest – Firepower
5. Sleep – The Sciences
6. Satan – Cruel Magic
7. Kill Ritual – All Men Shall Fall
8. Philip H. Anselmo & the Illegals – Choosing Mental Illness as a Virtue
didn't listen to the latest Sodom though. It would be most likely in the list
Linus "Commander" Öhrn (SINIESTRO, IXXI)
Most of you might be familiar with the swede Linus Öhrn and his two eminent projects : SINIESTRO and BLOOD OF JUPITER, each quite different from the other. SINIESTRO 's scope ranges from Blackened Thrash to Punk while BLOOD OF JUPITER dwells in an entirely different dimension. BLOOD OF JUPITER is more esoteric and less rigid in its doom vibes. SINIESTRO was founded in 2012, and BLOOD OF JUPITER's debut took place just a few months ago. Beside these projects, Linus Öhrn,  again as Commander, same as in the SINIESTRO, takes part as a guitar in the IXXI live performances since 2016.
1. Unleashed – The Hunt for white christ
2. Necrophobic – mark of the necrogram
3. Judas Priest – Firepower
4. Marduk – Viktoria
5. Funeral Mist – Hekatomb
6. Drudkh – They of the see dreams about the spring
7. Immortal – Northern Chaos Gods
8. Hank von Hell – Egomania
9. UADA – Cult of a dying sun
10. Nokturnal Mortum – Verity
Teddy Möller (LOCH VOSTOK, ex-F.K.Ü. …)
Multi-instrumentalist, started a drummer in the cheery trashars F.K.Ü. and later founded the dark philosophers of the extreme progressive metal – LOCH VOSTOK, where he took the place of vocal and guitarist. He also takes part in composing the music and writes lyrics in LOCH VOSTOK. Besides these bands, Teddy Möller participates in the present and the past in a large number of bands and projects, mainly progressive but also experimental.
1. Letters From The Colony – Vignette
2. Vola – Applause of a Distant Crowd
3. Anaal Nathrakh – A New Kind of Horror
4. Craft – White Noise And Black Metal
5. Post Malone – Beerbongs & Bentleys
6. Rivers Of Nihil – Where Owls Know My Name
7. VoiVod – The Wake
8. Terrorizer – Caustic Attack
9. Paara – Riitti
10. Tesseract – Sonder
Morten Shax (ENDEZZMA)
ENDEZZMA is hard to describe. Music of ENDEZZMA has a classical sound of the second wave (Darkthrone), but this is a necessary foundation nowadays. Morten Shax is vocalist and founder of the band. He also takes part at Urgehal and started his own label called "Flesh for Beast".
1. Craft "White Noise and Black Metal"
2. Varathron "Patriarchs of Evil"
3. Marduk "Viktoria"
4. Tribulation "Down Below"
5. Zeal & Ardor "Strange Fruit"
6. Harakiri For The Sky " Arson"
7. Gaera "Unsettling Whispers"
8. Bathory " Bathory "
9. Sigh "Heir to Despair"
10.Lychgate "The Contagion in Nine Steps"
2018 was a year that had few high anticipated releases from some of the big veterans in the Black Metal gender but they failed to conquer!
André Grieder (POLTERGEIST, ex-DESTRUCTION)
André Grieder, whose voice we recall from Cracked Brain 1990 by DESTRUCTION, and his band POLTERGEIST; added 10 albums to the total collection of the best of 2018.
1. Voivod – The Wake
2. Spock's Beard – Noise Floor
3. Judas Priest – Firepower
4. Subsignal – La Muerta
5. Haken – Vector
6. Fifth Angel – The Third Secret
7. Redemption – Long Night's Journey into Day
8. Heir Apparent – The View from Below
9. Alice In Chains – Rainier Fog
10. Gonoreas – Minotaur
Adramelech (INFERNO)
Adramelech is a front man of Czech occult black metal band INFERNO, formed back in 1996. As a vocalist and main lyrics writer, he is the last standing member for all the years since existence of INFERNO. When we talk about underground, this is the band that must be on the list with their specific occult atmosphere and darkness.
1. Misotheist – Misotheist
2. Svartidauði – Revelations of the Red Sword
3. Whoredom Rife – Nid – Hymner av hat
4. Devouring Star – The Arteries of Heresy
5. Outre – Hollow Earth
6. Sargeist – Unbound
7. Sektarism "Fils de Dieu
8. Slidhr -The Futile Fires of Man
9. Ascension – Under Ether
10. Funeral Mist "Hekatomb
Déhà (IMBER LUMINIS, MALADIE, MERDA MUNDI, YHDARL…)
Mad genius Déhà, musician, producer, mixing, mastering, audio engineer, who rarely works in less than 15 projects at one and the same time, relocated to Sofia, Bulgaria in 2013, but moved back to Belgium in 2017. Owns his own studio named 'HHStudios' and produces bands under the moniker 'HHProductions'. This studio has done recording, mixing, mastering and production for a wide array of bands/genres in both Belgium and Bulgaria. As a musician, Déhà can be associated in the past with bands like CLOUDS, SOURCES OF I, ITHILIEN, DEVIANT MESSIAH where he was a founder, and his current band like IMBER LUMINIS, MALADIE, MERDA MUNDI, YHDARL, SLOW, AURORA BOREALIS, and many more, probably near hundred projects past and present.
1. Mournful Congregation – The Incubus of Karma
2. Arkhtinn – 最初の災害
3. Hwwauoch – Hwwauoch
4. Svartidaudi – Revelations of the Red Sword
5. Ghostemane – N/O/I/S/E
6. YOB – Our Raw Heart
7. Paara – Riiti
8. Sylvaine – Atoms aligned, Coming Undone
9. Krukh – Безглуздість!
10. Mahr – Antelux
Pekka 'Pexi' Olkkonen (STAM1NA)
Pekka 'Pexi' Olkkonen is a guitarist in the Finnish band Stam1na, which is getting more and more popular beyond the borders of their home country, where they have sold out concerts for several thousands of people. Their latest album "Taival", which was released in October, once again got to the top of the local music charts. The band is nominated for band of the year in the Finnish music awards Emma Gaala.
The list of albums is in no particular order.
1. Alice in chains – Rainier Fog
2. Freak Kitchen – Confusion to the enemy
3. Amorphis – Queen of time
4. Omnium Gatherum – The burning cold
5. The Nightflight orchestra – Sometimes the world ain't enough
6. Jason Becker – Triumhant hearts
7. Joe Satriani – What happens next
8. Opeth – Garden of the titans
9. Marzi Nyman – Kelluva Katedraali
10. Haken – Vector
TENEBRES
TENEBRES was created in the winter of 2015 and has since then developed its sound in black and Gothic metal genres with doom influence and symphonic metal elements, clearly expressed through the use of cello and piano in the composition of the band
1. Virgin Black – Requiem – Pianissimo
2. Summoning – With Doom We Come
3. Immortal – Northern Chaos Gods
4. Urfaust – The Constellatory Practice
5. Sargeist – Unbound
6. FÓRN – Rites Of Despair
7. Candlemass – House of Doom
8. Evoken – Hypnagogia
9. Pantheist – Seeking Infinity
10. Yob – Our Raw Heart
Няма нищо тук

MetalHangar18's RSS Feed